Vito Nicola Paradiso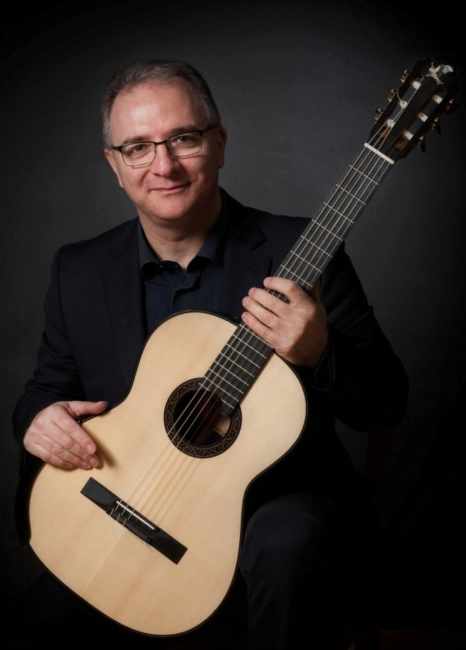 Born in Puglia (southern Italy) in 1964, after various experiences in different musical genres, he graduated in guitar in 1987 as a private student with highest honors. Since the end of the eighties, and for over a decade, he was awarded many national and international recognitions.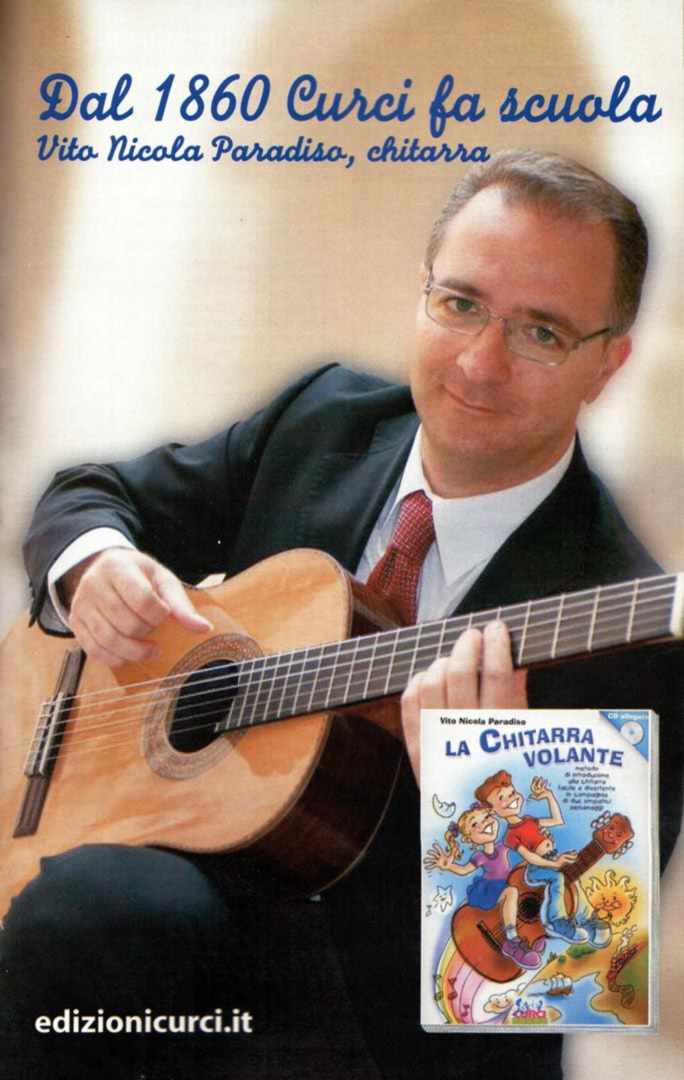 Golden Guitar 2012 for teaching

the 17th International Guitar Symposium

Maestro of Italy 2008 and 2012
the Italian Music Award
As performer, he has held numerous concerts in prestigious concert halls and theaters in Italy, France, England, Spain, Germany, Scotland, the Netherlands, Hungary, Switzerland, Austria, Ireland, China, Japan, Mexico, Argentina, Canada, and several states US: California, Oklahoma, Indiana, Arizona, Oregon, Washington, Massachusetts and New York.
As a soloist he has performed several concerts for guitar and orchestra. As a chamber musician, he has been part of several ensembles: from duos with flute, violin, harp, voice to percussion quintet with strings, as well as collaborating with internationally acclaimed artists.
He has recorded several solo albums, including: Una Chitarra in Frack (Edizioni Curci); Serenades Latin of '900 (attached to the magazine GuitArt); The Magic of the Italian Guitar (WLO Records).
As a composer, he is the author of the best selling beginning guitar method book (with record sales) LA CHITARRA VOLANTE. A real "Best Seller" of musical training, published by Edizioni Curci of Milan. La Chitarra Volante was for several years in the Top Ten music method books of any musical instrument, sold and used in Italy. Moreover, the same method is adopted and used in different schools and conservatories in Europe, as well as, in the United States and South America. Again, with Edizioni Curci, in recent years he has published several descriptive, original pieces of for solo guitar and guitar orchestra: Preludes Sentimental, La Chitarra Volante Ensemble, Latin American Dance, Travel in America and I love Guitar. In 2015, under the title O Violão Mágico, his method for guitar has been translated into Portuguese for the Brazilian market by Irmãos Vitale Editores of Rio de Janeiro. He has given numerous interviews and reviews for professional journals. His publications have won numerous critics' awards including: "Five-star" on the cover of the magazine Seicorde and GuitArt.
As a teacher, he is regularly invited all over the world to give master classes and seminars on methodology and especially for guitar orchestra. He is professor of guitar at the Higher Institute of Musical Studies " G. Paisiello" of Taranto. In 2000, he came out first overall, among hundred and fifty candidates, with 100/100 points, at the First National Competition for teaching guitar courses, held in Rome. He has conducted the world premieres of his compositions with several American guitar orchestras. Recipient of many awards and certificates for his prolific work as a teacher, including the prestigious Golden Guitar for teaching 2012 obtained at the "A. Vivaldi "in Alexandria, as part of the 17th International Congress of Guitar and twice, 2008 and 2012, the award " Master of Italy ". In recent years he conceived and founded various charity projects with the creation of records and events.
www.vitonicolaparadiso.it