Angela Centola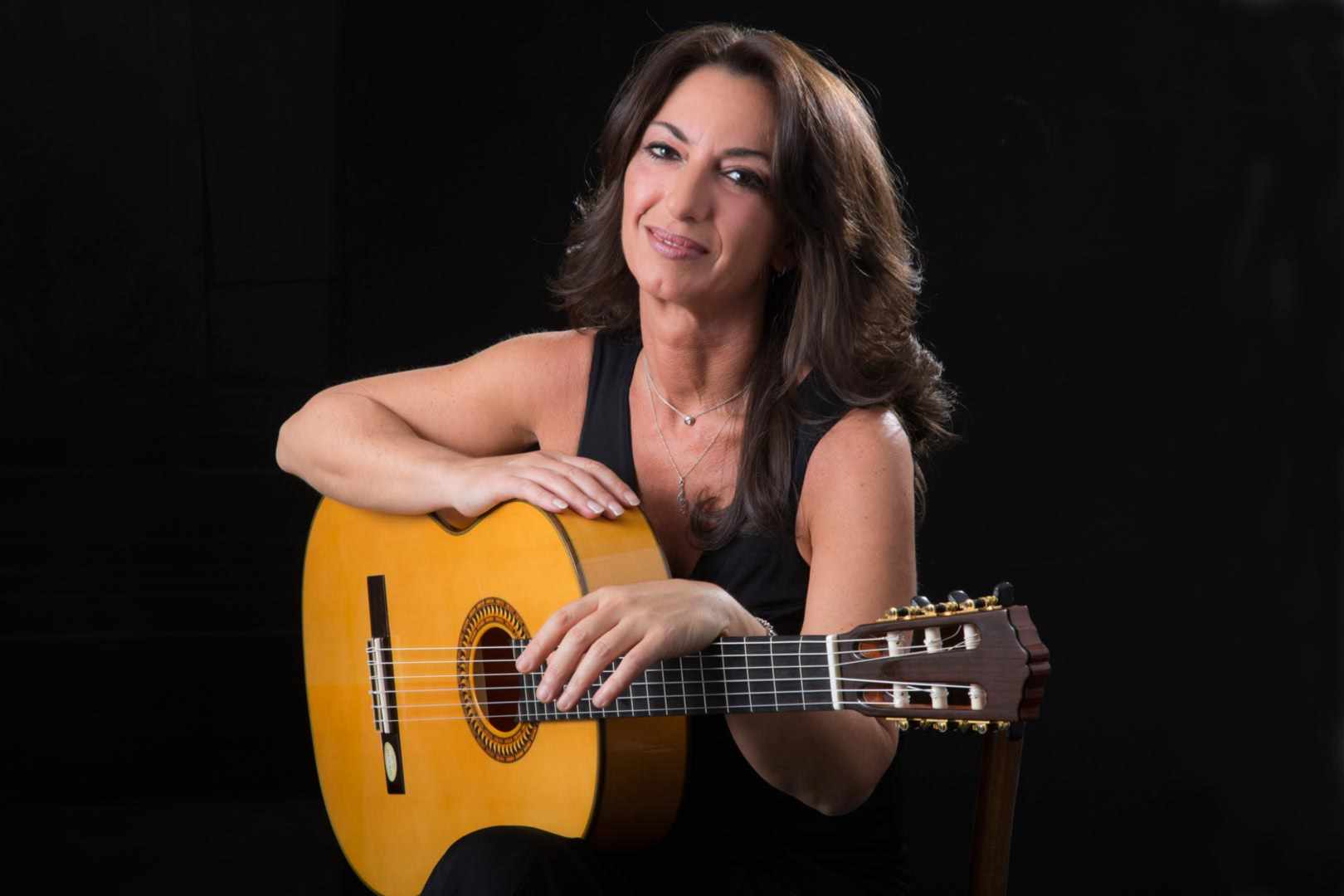 She takes her degrees with highest honours under the guide of the master G. Margaria, at "A. Vivaldi" conservatory in Alessandria. Then She follows two years of tranining at the same conservatory in the guitar class. Angela takes an academic degree with highest honours and an aid grant at "G. Cantelli" Conservatory with the Master M. Dell'Ara, studying for a second level specializaton in guitar (XIX century music), discussing a thesis on "F. Carulli and concerts for guitar and orchestra in XIX Century" with the connected productions.


Later she approaches flamenco Guitar following different Master's degree: in Florence with Master Oscar Herrero, and then a three years specialization at conservatory" G. Braccialdi" in Terni, under the guide of Master Juan Lorenzo, and now she collaborates with him in executive and didactic ways. At "Civica Scuola di Musica" in Milan she follows two years of a highest specialization in guitar under the guide of master Aldo Minella.
Together with the Masters Marc and Eric Francerie she follows some specializations in Lyon Conservatory; Angela obtains A- Levels playing in different French cities. She attends some specialization courses in Genoa and Varallo S. with the Master G. Margaria obtaining an aid grant. She attends Flamenco Guitar courses in Cordoba at International Guitar Festival with Masters: Manolo Sanlucar, Rafael Riqueni, A. V. Toscano e Sabas de Hoces, and She plays at National Theatre. Angela takes best awards in different contests: Nazionale di Asti, Nazionale di Genova, Nazionale di Varenna, Internazionale di Viareggio, Internazionale di Nova Milanese, Internazionale di Acqui Terme, and a special reward at International Music TIM in Milan.
In December 2005 she plays in World Live Record for Radio Vaticana. She plays in different concerts as a solo artist and in different music teams: she plays in duo with the guitarist Roberto Margaritella, with the cellist Francesca Ruffilli, also making the arrangements.
She plays in different theater shows under the direction of A. Marchetti, L. Sala e L. Marchesi and she durably collaborates with the actress Silvia Poletti and together they realize lectures and live performances. She impresses a CD for duo Guitar and Piano from the original index of libretto M°M Dell'Ara. In 2011 she impresses the CD "Sueno impressioni spagnole tra classica e flamenco" with Roberto Margaritella produced by Studiottanta-Fortuna Records which was positively rewieved by "Guitart" magazine.

In 2013 for the anniversary of the birth of the great composer M. Giuliani, Angela Transcribes "Sei Ariette" op.95, "Sei Lieder" op.89 e "Sei Cavatine" op. 39 for guitar, cello and solo voice making an execution as an absolute premiere. In this occasion she recieves an award from the district of Bisceglie and the Association "Mauro Giuliani": "Per l'importante realizzazione musicale che valorizza l'opera dell'insigne Mauro Giuliani" (for the important musical realization wich emphazizes the work of the great composer Mauro Giuliani).
For the duo Centola- Margaritella she publishes different arrangements and re-elaborations of pieces which had been impressed by Edizioni Sinfonica ed Edizioni Pizzicato. Angela Centola plays for the first time the piece "Bagliori di altri cieli" of the composer Alessandro Cerino.
She impresses the CD "L'ame de la guitare" (collection of the composer Sergio Coldagelli, some of which dedicated to her, which was published together with the music score by Ed. Musicali Sinfonica, presented by M° M. Dell'Ara.
She is official endorser of Aquila Corde Armoniche.
She is guitar and ensemble music teacher at Liceo Musicale "P. Gobetti" in Omegna (VB) in collaboration with Alessandria Music Conservatory in Italy. Juan Lorenzo says: "Angela Centola is undoubtedly a guitarist of the very few to have strong and precise touch guitar music, you can see in his performances security and control both technical and interpretive. E 'with a talent constantly evolving, which allows it to engage in various forms of music, from classical to world flamenco virtuosity. An artist with a strong personality generous and demanding".

Angela Centola plays the Salvador Cortez CF-120.