Massimiliano Rosati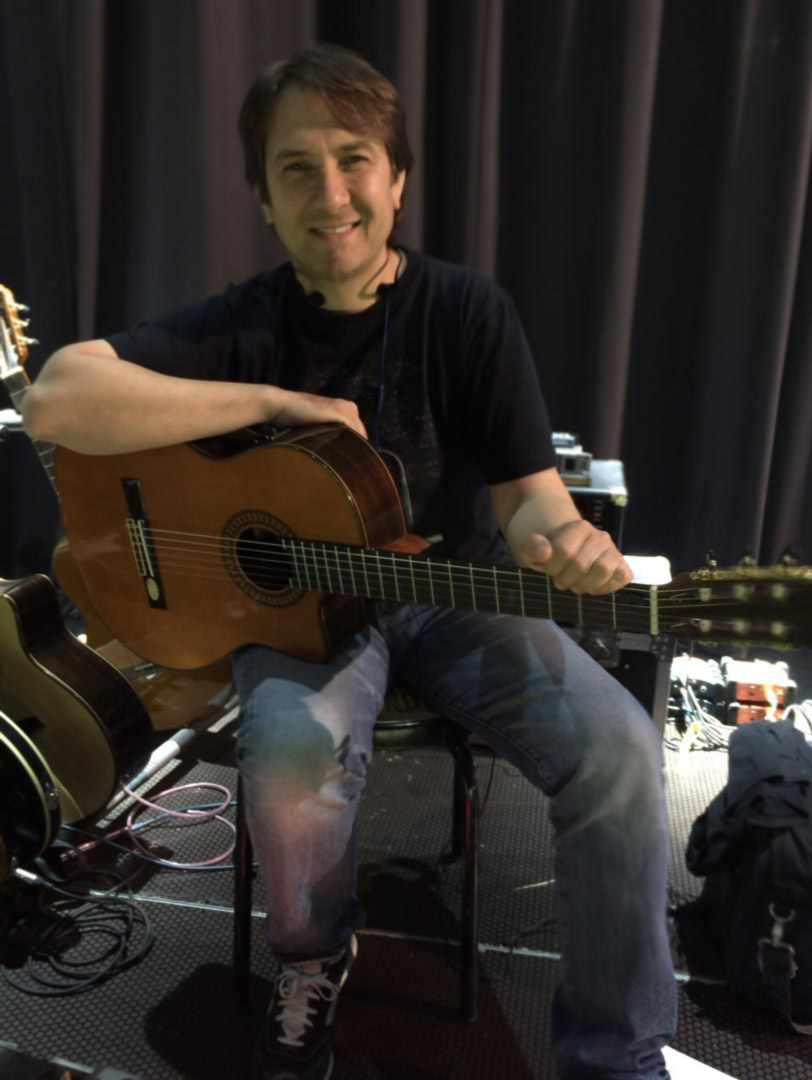 It carries twenty-five years as a guitarist, alternating the work of the recording studio and live performance, the author and music producer. Here are some of his artistic achievements.


He has worked in pop music with:
GINO VANNELLI, YOUSSOU N' DOUR, PATTI SMITH, MASSIMO RANIERI, ANDREA BOCELLI, FIORELLA MANNOIA, TERESA DE SIO, GIANNI TOGNI, IRENE GRANDI, FRANCESCO RENGA, SIMPHIWE DANA,AMEDEO MINGHI, CLAUDIO BAGLIONI, RAIZ (Almamegretta), NADA, GRAZIA DI MICHELE, FABRIZIO PALMA, ROY PACI, MAU MAU, GINEVRA DI MARCO, ANGELA SPOTORNO, FRANCO FASANO, PEPPE VOLTARELLI, APRES LA CLASSE, ANNALISA MINETTI, SHEL SHAPIRO,SANDRO GIACOBBE, MARCO ARMANI, VALERIA ROSSI,AMEDEO MINGHI e LINO BANFI, BOBBY SOLO, RICCHI E POVERI, LITTLE TONY,FRANCESCA ALOTTA, ALEANDRO BALDI, FRANCESCA SCHIAVO, ALDO DONATI (SCHOLA CANTORUM), RED CANZIAN (POOH), ANONIMO ITALIANO, BARBARA COLA, GIANNI NAZZARO....

TELEVISION PRODUCTIONS:
SOGNO E SON DESTO 1 - RaiUno - director Pinuccio Pirazzoli
SOGNO E SON DESTO 2 - RaiUno - director Fio Zanotti
AMICI 9 (2010) Canale 5 - director Peppe Vessicchio,
AMICI 10 (2011) Canale 5 - director Peppe Vessicchio,
CARRAMBA CHE SORPRESA RAI - director Gianfranco Lombardi
QUIZZAUTO RAI - director Federico Capranica .....

THEATRICAL PRODUCTIONS:
VIVIANI VARIETA' (Massimo Ranieri)
POVERI MA BELLI (Musical) music by Gianni Togni, directed by Massimo Ranieri...
C'E' QUALCHE COSA IN TE ... (Enrico Montesano) (director: Renato Serio)
I VIAGGIATORI SULLA LUNA (Pino Quartullo)(as author, musician and arranger)
BEI TEMPI (Manlio Dovi') (director: Sal Genovese),
IL GRANDE SFRACELLO (Max Giusti) (as arranger and co-author),
COME UN PESCE FUOR D'ACQUA (Max Giusti) (as arranger).....

Soundtracks
FILM
Vacanze di Natale '91
L'allenatore nel pallone 2
L'ultimo Pulcinella

FICTION
Le ragazze di San Frediano
La ragazza americana
Una sera d'Ottobre
Fratelli Benvenuti
I ragazzi di Pippo Fava (as the author of the soundtrack and arranger)

He has worked with directors:
Gianfranco Lombardi, Fabio Frizzi, Peppe Vessicchio, Maurizio Pica, Pippo Caruso, Renato Serio, Pinuccio Pirazzoli, Fio Zanotti, Paolo Buonvino, Stefano Zavattoni, Marcello Sirignano, Federico Capranica, Sal Genovese....

TELEVISION APPEARANCES:
SCALO 76, FESTIVALBAR, MAURIZIO COSTANZO SHOW, DOMENICA IN, TELETHON, 1° MAGGIO, GIFFONI Film Festival, NON E' LA RAI, TAPPETO VOLANTE, VOTA LA VOCE, ROXY BAR, HELP, PRONTO E' LA RAI, MIO CAPITANO ecc......

In the various television programs he has played with:
Craig David, Michael Bolton, Boy George, Pino Daniele, Lucio Dalla, Gianna Nannini, Antonello Venditti, Fiorella Mannoia, Francesco De Gregori, Gino Paoli, Ornella Vanoni, Franco Battiato, Ron, Marco Masini, Michele Zarrillo, Edoardo Bennato, Elio (Elio e le storie tese), Irene Grandi, Patty Pravo, Caparezza, Albano, Morgan, Anna Oxa, Simona Molinari, Toto Cutugno, Alessandra Amoroso, Emma Marrone, Marco Carta, Valerio Scanu, Annalisa, Luisa Corna, Gigi D'Alessio, Gigi Proietti, Nancy Brilli, Tullio Solenghi, Max Tortora, Enzo Decaro, Lucia Bosè, Giorgio Panariello, Paola Barale,....

As LEADER:
He published his first solo album "SUN FIRE" in 2008
(music publishing Coccodrillo / distribution Venus)

With him on the CD:
Luca Trolli: Drums
Massimo Moriconi: Bass and Double bass
Sergio Quarta: Percussion
Javier Girotto: Sax
Michel Audisso: Sax
Tollak Ollestad: Harmonica (Earth Wind and Fire, Gino Vannelli ...)
Flavio Mazzocchi: Piano
Ettore Gentile: Piano
Massimo Fedeli: Piano e Accordion
Carlo Mezzanotte: Piano

DISCOGRAPHY
He has as a session musician, arranger and sound engineer over 500 CDs.
Massimiliano Rosati plays the Salvador Cortez CC-60.